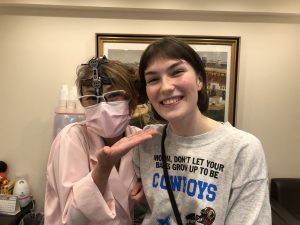 Since the
Hitomi Dental Office
team speaks English, and we promote it on our website, the majority of our patients are from countries other than Japan. That's great because one of my goals throughout my career has been to serve the international community. That's why
Hitomi Dental Office
advertises in international publications. We also donate to events put on by various international organizations.
TELL
and
The American Chamber of Commerce in Japan
are a couple of examples. However, because many of our patients are in Japan for a few years, we have to sometimes say good-bye. That recently happened with one of our patients, Elsbeth. She is an exchange student at
Mita International Gakuen
, and she will graduate soon. However, when she leaves, she will have completed her braces treatment with
Hitomi Dental Office
. She had her first few treatments in her home country of New Zealand and we were happy to finish them up. We often have patients who began some form of dental treatment before they came to Japan and
Hitomi Dental Office
is very experienced in completing their dental treatment, no matter what it is. We will miss Elsbeth, but her year was very productive in Japan. Along with learning Japanese in one year, she will return to New Zealand with a bright new smile, courtesy of
Hitomi Dental Office
..